Revolutionary Loyalty Solution
Big brands loyalty features available to small retailers
Works with your POS software
Ads and coupons on receipts
Targer customers with filters
QR code for web promotions
Cross selling option
Prize games on receipts
Works with or without cards
Contactless or barcode cards
Could work with existing cards
Collect points with every purchase
Money back with every purchase
Flexible bonus system
Pay with card
Gift card option
Affordable
This solution has been developed especially for smaller and medium-sized points of sale, who wish to reward the loyalty of their customers just like the largest retailers, whereas their solutions have not been affordable to them until now.


Start today
Start today, guaranteed without interventions into your current billing system. Integration with your current system shall not be required. Therefore, you can immediately start rewarding the loyalty of your customers. This solution works without additional investments into new devices.
Young and old
This solution enables access to loyalty programs also for technologically less aware users. It enables you to reward everyone! Information and rewards on the account are available to everyone, including those who do not own a smart phone or envision their wallets as card-free.
Lucky receipt
You will spread good information, advertise bargains or invite users to concerts. Vouchers will enable your customers to purchase exposed and cheaper products. Reward your customers by returning a percentage of their purchase price in form of a voucher or directly to their credit card. All reward points are added automatically!
Shorter queues
The queues in front of cash registers will be longer solely because of returning customers. The loyalty program works in the background and the cashier is usually unaware of its existence. Also credit card payments do not take longer than the usual payment transaction. No worries!


Simple and easy
A lot of attention was paid to details. The loyalty program is basically invisible to the cashier, but on the other side pretty much visible to clients and customers. It is so simple and easy that it will only take five minutes for the cashiers to learn the process.



Affordable loyalty solution
Choose package now! Another day without loyalty system is another day without knowing your customers.

| | FREE | MINI | RECEIPT | CARDS | MAXI |
| --- | --- | --- | --- | --- | --- |
| Client | YES | YES | YES | YES | YES |
| Ads on receipt | 0* | 1 | UNLIMITED | 0 | UNLIMITED |
| Coupons on receipt | 1 | 1 | UNLIMITED | 0 | UNLIMITED |
| Campaigns manager | / | / | YES | / | YES |
| Moneyback on coupon | YES | YES | YES | / | YES |
| Used with cards | / | / | / | YES | YES |
| Money on cards | / | / | / | YES | YES |
| Points on cards | / | / | / | YES | YES |
| Customer management | / | / | / | YES | YES |
| Customer reports | / | / | / | YES | YES |
| Setup fee | FIXED | FIXED | FIXED | FIXED | FIXED |
| Education | INCLUDED | INCLUDED | INCLUDED | INCLUDED | INCLUDED |
| Support package | FREE | FREE | NORMAL | NORMAL | NORMAL |
| Price | FREE | 14,90€ per month | 29,90€ per month | 29,90€ per month | 39,90€ per month |
Need more information? .
Type in your email address and click 'Request more info' button and we will send you info. Start rewarding your customers today!
Advertisements
The unchanged layout of the invoice is followed by an advertisement that enables you to showcase special offers. It is designed to attract customers. It is possible to adjust the ad so that it can be shown only if it corresponds with the set criteria. Target advertising, according to the date, time, total sum of the invoice, keywords on the invoice, selected day of the week and amount of collected points, is also possible.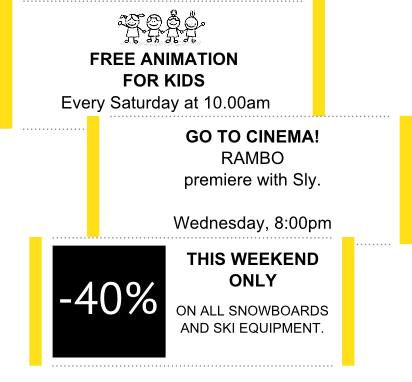 Promotions in cooperation with your supplier are also available. Advertise concerts and other events, children channels in the morning, rock concerts in the evening. Announce 'happy-hours'. Advertise food and drink bargains. Inform the customers about discounts and other available opportunities that you offer. Announce new collections and offers.
Coupons
Vouchers are superb marketing tools. You can reward your customers with them and invite them to return at the next opportunity. The system allows you to publish vouchers, whereas their content is limited only by your imagination. Return a percentage of the purchase price with the next purchase, enable to collect a certain number of vouchers in order to enter a competition or issue a voucher for returning customers.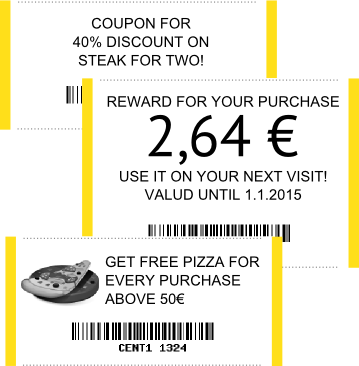 Ensure that your customers will return to you. Return a percentage of the purchase prices with the next purchase. Cooperate with a taxi service and co-finance transport costs. When purchasing a certain product, offer a second one for a lower price. Issue a voucher for free croissants when ordering a coffee, which is redeemable on the following day.
Cards
Cards enable you to acquire better knowledge about your customers and strengthen the recognition of your trade mark. By using them you will gain access to your customer's personal information. You will be able to monitor their purchase, enable the collection of points or money back rewards. The card can be used as a mean of payment or just a gift card. Using cards does not affect the length of payments at the register.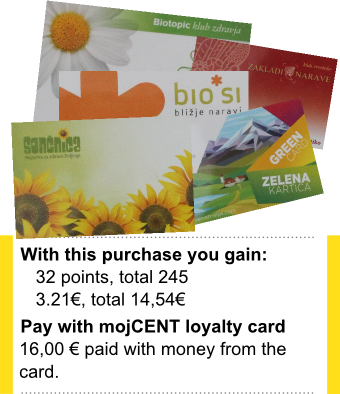 Collect points and money back rewards on the card. Use credit for the payment. Pre-paid and gift cards. Acquire better knowledge about your customers and their purchases. Reward your best customers. Flexible bonuses according to the amount of money spent. Gain access to reports about customers. Collect your customer's personal information and prepare additional marketing campaigns.